Online Course on Commencement to Spoken Sanskrit'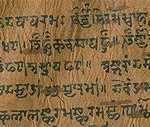 Sanskrit – Mother of all Languages
All Applicants will receive email with all instructions on July 09 -2011
Admissions are closed for Spoken Sanskrit Online Course
Global Educational Programmes Series, An intiative of E-gurukul is pleased to Announce launch of World wide Educational Programme."Samskruta Kranti".The aim of "Samskruta Kranti" is to introduce Basics of Spoken Sanskrit – Mother of all Languages to atleast 10, 000 people across the globe in next 3 years.
"The Devnagri script and spoken Sanskrit are two of the best ways for a child to overcome stiffness of fingers and the tongue," says Moss.  "Today's European languages do not use many parts of the tongue and mouth while speaking or many finger movements while writing, whereas Sanskrit helps immensely to develop cerebral dexterity through its phonetics.

Panini, the legendary Sanskrit grammarian of 5th century BC, is the world's first computational grammarian! Panini's work, Ashtadhyayi (the Eight-Chaptered book), is considered to be the most comprehensive scientific grammar ever written for any language.
Details of Online Course
Name of the Course – "Commencement to Spoken Sanskrit"
'Vaachya Samskuta PratipattiH (वाच्य संस्कृत प्रतिपत्तिः)
Mode – 100% Online – Live Audio Visual Interactive Session.
No of Sessions – 04
Session Duration – 2 hrs.
Date – July 10, 17, 24 & 31 -2011 – Sundays
Time – 6 am to 8 am Indian Standard Time
Trainer – Mrs Rashmi Kashi – USA
Registration – 100% Free.
Pre-requisites –
A genuine interest to learn and appreciate the language.
Knowledge of 'devanaagari' script can prove a huge advantage, although it is not a requirement.
Knowledge of an Indian language could be an added advantage to comprehend better.
Internet Connection with Head set Facility.