E-gurukul.net's Online Grad Event – 2012
An Open Invitation to one and all to E-gurukul.net's First Online Graduation Event -2012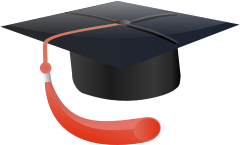 It gives us immense pleasure to share with you all  about our first Online Grad Event in 2012.
The first batch of Spoken Sanskrit Students and Second Batch of Vedic Maths Teachers Training Students will have their online graduation at E-Gurukul.Net on Feb 25 -2012, Saturday @11 pm IST or 6.30 am NZST.
As a part of Global Educational Programmes Series, e-gurukul.net launched World Wide Awareness programme in Spoken Sanskrit – Samskruta Kranti.The mission of "Samskruta Kranti" is to introduce Basics of Spoken Sanskrit – Mother of all Languages to atleast 10,000 people across the globe in the form of web based seminars, e-courses.This past August, E-Gurukul.net held an online live 4 weeks audio-visual course with Trainer Rashmi Kashi from US explaining the basic concepts of Spoken Sanskrit A.She took the students through basics of spoken sanskrit covering various topics like Introduction, Alphabet briefing, Understanding the grouping and arrangement of alphabet for the way they are, Letter conjugations, Making short sentences, Expansion of vocabulary via riddles, Examples with simple subhaaShitaa-s, Introduction to numbers, Making short conversations, Comprehending a short story and much more.The entire 4 weeks online training and 24/7 online Forum discussions on Spoken sanskrit  was well received by over 180 students from 20 cities across 14 countries and they had thoroughly enjoyed the course right from comfort of their homes.
As a part of Global Educational Programmes Series, e-gurukul.net have announced launch of World-wide Online Educational Programme. "Vedic Ganita Kranti" – World Wide awareness Programme in science of Vedic Maths. The mission of this noble endeavour is to introduce science of Vedic maths to at least 10,000 people across the globe in the form of web based seminars, e-courses and by establishing quality & top notch Vedic Mathematics trainers across the globe who can teach Science of Vedic Maths among Youth and children thru online teachers training programmes.
Vedic Mathematics is the name given to the ancient system of Indian Mathematics which was rediscovered from the Vedas between 1911 and 1918 by Sri Bharati Krsna Tirthaji (1884-1960). According to his research all of mathematics is based on sixteen Sutras, or word-formulae. These formulae describe the way the mind naturally works and are therefore a great help in directing the student to the appropriate method of solution.
After successfully organizing series of webinars and teachers training programme in Vedic Maths, Vedic Ganita Kranti team had teamed up with World famous Vedic Mathematician Mr Kenneth Williams from Vedic Maths Academy, UK.He had designed this audio visual course curriculum, took the students through different Sutras and examples in the form of 36 Video lessons covering numerous topics like early history of VM, various techniques, Sanskrit and Pi and many more topics. The entire 11 weeks online training with over 2000 online Forum discussions on Vedic Mathematics was well received by the students and they had thoroughly enjoyed the training. Upon completion of this online training, each student underwent a strict certification process. The certification process consisted of completing various video lessons, online tests, organizing an intro session on Vedic mathematics in their respective locations, project work submissions, Online Forum discussion participation and many more.
31 Students from 27 cities spread across 11 countries over 4 continents had successfully completed the certification to the required standards.

Students age range from 26 to 66.

Occupations – Phd's, Math Teachers, Management Professionals, IT professionals, Environmental Engineeers,  Postgrads in Chemistry- Electronics ,  Medical Professionals, Teachers, Home makers, Volunteers and many more.
We would like to congratulate all our students of Spoken Sanskrit and Vedic Maths teachers training on the successful completion of the online Trainings.This first class of Spoken Sanskrit and second batch of Online Vedic Maths Teachers Training will have its online graduation at E-Gurukul.Net on Saturday, Feb 25, at 11 PM IST, during which time there will be Kenneth Williams from UK, Rashmi Kashi From USA and other Eminent speakers and students from over 20 countries participating. This "E-gurukul.net's online graduation Event" will be open to the public and anyone from any part of globe can join the event right from the comfort of one's home.
( View your local time – http://www.timeanddate.com/worldclock/ )
Please follow below Instructions to Join Live Web Event.You can Enter from 10.50 PM IST – Please arrive Early.
Schedule for the Live Event – Date – Feb 25 -2012 11 PM
1. Guru Mantra & Welcoming all Participants & Hon Speakers.
2. Quick Intro on E-gurukul, Global Educational Programmes, Mission & Vision of Global Education Programmes etc.
3. Announcing Names of all Certified Trainers.
4. Talks by various speakers.
5. Experiences will be shared by students from different countries.
6. Announcements and Thank you Speech
7.Prayer for World Peace & Harmony.
Please Click here to test settings at Your End (After you enter, Click on Check System)
Step 1 Click here to Join the Event (You can use same link to View Recording from 27 Feb-2012)
Step 2.Click on Launch Class.
Step 3.Enter your Name(no spaces allowed)
Step 4.Click Launch Class – Thats it – Simple and Easy(session will pop at 10.50 PM IST)
We look forward to see you on other side.Happy Virtual Experience.
Technical Issues
  When I click on the "Launch Class" icon, a blank page appears and nothing else comes?

Make sure that you have the latest flash player installed on your system. You need flash player to present or attend a class on WizIQ. If you don't have the flash player installed on your system, you may download and install it from this URL.
http://www.adobe.com/shockwave/download/download.cgi?P1_Prod_Version=ShockwaveFlash

1) Perform the test available here (takes less than a minute)
http://www.adobe.com/cfusion/knowledgebase/index.cfm?id=tn_16466 .
This test must be a PASS to access the class.
I got disconnected in the class. I tried to enter the class again but got this message "This user already exists".
When you disconnect in a running class, at times it may take a minute or two for the servers to actually log you off from the class. So if you try to enter the class again within such time, you are shown the message that this user already exists. To resolve this error, try one of the following steps:
1. Close the class window and launch your class again. If does not work, try launching the class in a different browser.
2. Copy and paste the class link in a new browser window.
1.For Optimum Virtual Learning Experience Try to use Google Chrome, Fire Fox Browser.You can try with different browsers too, in case any trouble or any doubt you can click here to check your settings in your system<http://www.wiziq.com/info/technicalinfo.aspx>.
2.Incase of any technical difficulty try closing the session and relaunch it from Step1
We look forward to see you on other side.Happy Virtual Experience.