Tulasi – Holy Basil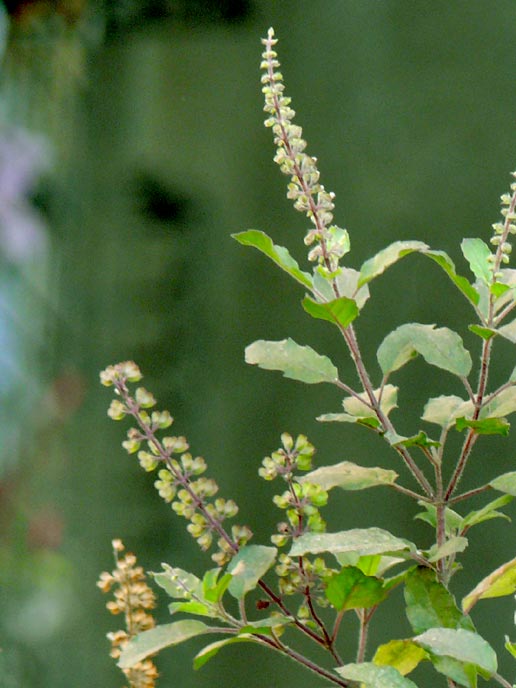 All You Want to Know About Tulsi -From: The Hindu, September 23, 2002, By K. Kannan
AMALGAMATING MYTHOLOGY, ancient Ayurvedic practices and modern experimental and clinical research, Narendra Singh has for the past 37 years been conducting an unusual investigation into some of the medicinal herbs which Indians have known for years. And it is "Tulsi" — the mother medicine of nature — that has formed the nucleus of his research work. Condensing his years of labour into a 100-page book, therefore, has not been easy. But that is what Dr. Singh has attempted to do now with a well-researched book on Tulsi brought out recently. Along with his co-authors, Yamuna Hoiette and Ralph Miller, he argues forcefully that Tulsi — the pillar of the traditional Ayurvedic holistic health system — will emerge as a forerunner in the growing field of herbal supplements and medicines worldwide.
Here in the Capital recently, Dr. Singh recalled how as a young doctor in the Army, he was drawn to investigating the properties of Tulsi and Ashwagandha — two of the plants which were part and parcel of the domestic environment in which he grew up. "People call me the father of Tulsi abroad. But I am not much known in my own country," he points out, adding that "modern science has been accumulating evidence in support of the traditional health promotion and disease treatment uses of Tulsi".
Joining the King George's Medical College, Lucknow, in the early Sixties, Dr. Singh conducted systematic research on the various properties of Tulsi, confirming many of the observations made by ancient seers. "Our research has shown that Tulsi protects against and reduces stress, enhances stamina and endurance, increases the body's efficient use of oxygen, boosts the immune system, slows down aging and provides a rich supply of anti-oxidants and other nutrients." Dr. Singh, who himself has been using Tulsi and other herbs in treating persons afflicted with various ailments, says Ayurveda and modern medicine were complimentary in nature. "I use Tulsi and Ashwagandha to enhance the immune system of my patients," he says, adding it was also being grown organically in farms in and around Azamgarh in Uttar Pradesh which has been his experimental bed all these years. Currently the director of the International Institute of Herbal Medicine, Dr. Singh has also been the driving force behind the launch of "Tulsi Tea", which is being exported by a Lucknow based pharmaceutical firm.
"Tulsi can readily be brewed and taken as a particularly good-tasting herbal tea," says Dr. Singh, who has as many as 28 patents against his name. "We have also confirmed the anti-radiation effect of Tulsi. In the event of a nuclear holocaust, it will be the only saviour."